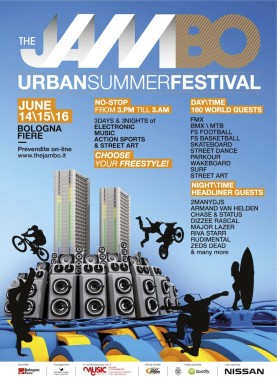 Dal 14 al 16 Giugno Bologna Fiere aprirà le porte a The Jambo, un evento che si presenta come "la più grande rappresentazione del mondo freestyle mai realizzata in Europa". 3 giorni e 3 notti di musica, arte e action sport portati in scena dai più grandi deejay, performer, rider e artisti del panorama internazionale!
Concerti, esibizioni e contest non stop dalle 15 alle 3 del mattino, dalla console al vert, passando per gli spazi urbani della street art, della danza, del parkour, del football e del basketball freestyle, fino ad arrivare sulle rampe della fmx e sulle onde del surf e del wakeboard!
Sull'arena di 60mila metri quadrati si daranno battaglia nelle varie discipline oltre 160 atleti di calibro internazionale provenienti da ben 24 paesi diversi.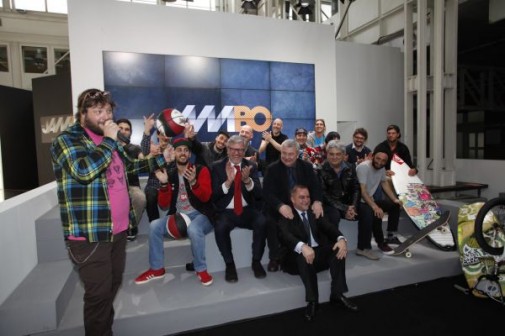 A garanzia della qualità, saranno event coordinator delle varie manifestazioni le nostre icone italiane Alvaro Dal Farra, per la fmx, Daniel Cardone, una leggenda dello skateboard mondiale, Lorenzo Pinciroli, il funambolo del basket, Riccardo Chemello, per il parkour, Walter Gianini, per il wakeboard, e Nicola Bresciani, per il surf.
Competizioni di altissimo livello quindi, con prize money stratosferici (voci di corridoio parlano anche di 10.000Euro a contest…) in cui lo show è assicurato sia dal livello degli atleti invitati (qui la lista ufficiale), sia dal setup delle varie aree.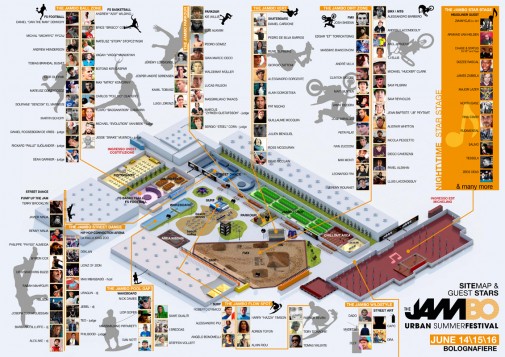 Come ciliegina sulla torta a The Jambo si balla fino a notte fonda grazie alle performance di top star come Major Lazer, Chase & Status, Zeds Dead, 2 Many DJs, Armand Van Helden, Dizzee Rascal e Riva Starr, oltre alle esibizioni freesyle delle crew di break nella manifestazione di urban dance pensata Cruisin': Pump up the Jam.
Una lineup spaventosa quindi per un evento che si annuncia imperdibile!
Per acquistare i biglietti di ingresso: www.thejambo.it. Sotto il programma completo.
Venerdì 14 Giugno
15:30 18:00 SURF Pay That Trick
15:45 16:45 SKATEBOARD The Jambo Ramp Open Practice
15:45 16:45 WAKEBOARD Wake Jam Session
16.00 URBAN DANCE Pump Up the Jam
17:00 19:00 PARKOUR The Jambo Workshop
18:00 19:00 FMX Whip Contest
19:00 21:00 FS FOOTBALL Red Bull Street Style
20:40 21:40 FMX Team Contest
21:00 URBAN DANCE Pump Up The Jam
21:30 22:30 SKATEBOARD The JamBO Ramp Show
22:40 23:00 FMX I Signori delle Rampe
Sabato 15 Giugno
15:30 16:30 SKATEBOARD Invitational Skateboard Demo
15:30 URBAN DANCE Hip Hop Connection Arena
15:45 17:15 WAKEBOARD Chips For Tricks – Gara Pro
16:00 18:00 SURF Pay That Trick
17:00 18:00 PARKOUR Krap Challenge 2013
18:00 19:00 FMX Step-up Contest
18:30 19:30 PARKOUR Krap Challenge 2013 – Style Contest
19:00 20:00 FS FOOTBALL JamBall – Ottavi di finale
20:00 21:00 FS BASKETBALL JamBall – Quarti di finale
20:30 21:30 FMX Best Trick Contest
21:00 URBAN DANCE Hip Hop Connection Arena
21:30 22:30 SKATEBOARD Cash 4 Trick
22:30 23:00 FMX I Signori delle Rampe
Domenica 16 Giugno
15:30 URBAN DANCE Pump Up the Jam
15:45 17:15 WAKEBOARD Chips For Tricks – Gara Pro
16:00 18:00 SURF Pay That Trick
17:00 18:00 FMX – Darwin's Trick Evolution
18:00 20:00 FOOTBALL & BASKETBALL FS – JamBall
17:00 18:00 PARKOUR – Krap Challenge 2013
20:15 21:15 FMX – FMX Contest
19:00 20:05 PARKOUR – Krap Challenge 2013
21:00 URBAN DANCE Pump Up The Jam
21:30 SKATEBOARD Premiazioni Bowl Contest
22:30 23:00 FMX I Signori delle Rampe